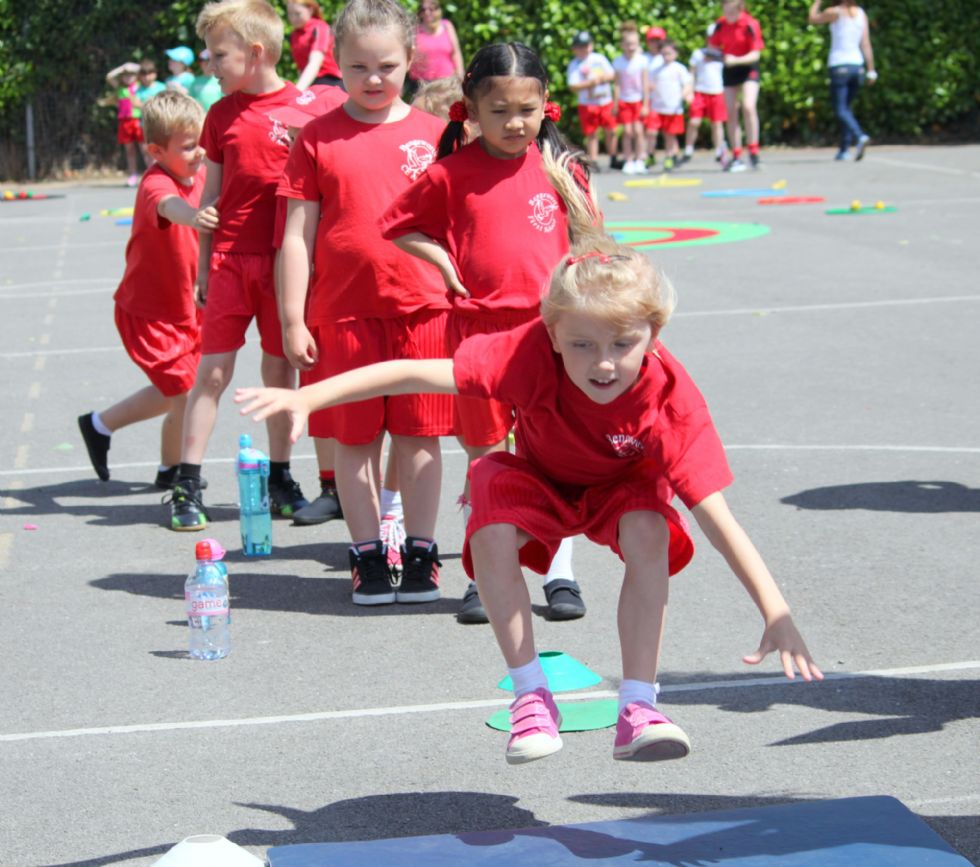 PE and Sports
Tim Brown and Kate Dawe will continue the delivery of the PE curriculum this year. On offer will be a vast array of sporting activities inspired by the Rio 2016 Olympics. We look forward to work closely with local schools, the SGO and wider community to ensure all children at Bengeworth Academy receive outstanding opportunities both in and out of school.
We are excited to welcome back Evesham Tennis Club this year. The coaches will be working with children from Years 2 to 5, every Thursday from 3.30pm - 4.30pm. We look forward to entering the Worcestershire School Games in the Summer. Last year our teams came 2nd and 3rd overall across the cluster.

Karen Robinson will also be joining the PE team after October half term. Karen is a specialist hockey coach who will be working with the older children after school every Tuesday from 3.30pm - 4.30pm throughout the year. Our aim is to develop hockey throughout the curriculum and enter as many tournaments as possible. The children will then feed into community clubs.
PE Lessons
During PE lessons, teachers ensure that when 'evaluating and improving performance', connections are made between 'developing, selecting and applying skills, tactics and compositional ideas', and 'fitness and health'.
During Key Stage 1 pupils build on their natural enthusiasm for movement, using it to explore and learn about their world. They start to work and play with other pupils in pairs and small groups. By watching, listening and experimenting, they develop their skills in movement and coordination, and enjoy expressing and testing themselves in a variety of situations.
During Key Stage 2 pupils enjoy being active and using their creativity and imagination in physical activity. They learn new skills, find out how to use them in different ways, and link them to make actions, phrases and sequences of movement. They enjoy communicating, collaborating and competing with each other. They develop an understanding of how to succeed in different activities and learn how to evaluate and recognise their own success.
For more specific information go to:
http://www.education.gov.uk/schools/teachingandlearning/curriculum/primary
Gymnastics
The children work hard to create individual, paired and group sequences. They learn how to incorporate travel, shapes, rolls and balances on and off the apparatus. All of the children perform their sequences to music, and take time to observe and analyse other performances. Due to the high level of teaching many children are signposted into local clubs and take part in all of the gymnastics festivals and events throughout the year.
Games
In Key Stage 1 children develop the fundamentals of movement which include agility, balance and coordination. In Key Stage 2, the children are offered a multi-skills approach until they are ready to specialise. Football, tag rugby, hockey, netball and basketball are all taught throughout the year. In the summer the children are taught the skills of cricket, rounders, tennis, softball and athletics. All our children are provided with the opportunity to take part in Intra-School competitions where they can compete against each other.
Dance
The children create, choreograph and perform individual, paired and small group dances based on their topics. They reflect on actions, dynamics, space and relationships in every lesson and can apply them confidently. Many children enjoy attending dance club which runs throughout the year. Some children are signposted into local clubs where they take part in competitions and local events around the County.
Outdoor and Adventurous Pursuits
Children work in teams to solve problems. They follow trails around the school grounds, learn how to map-read, scavenge for treasure and even lead others across crocodile infested swamps! They build confidence in one another using communication and leadership skills. All children can then confidently apply these key skills to other aspects of the school curriculum.
Swimming
The children have swimming lessons from Year 1 at Evesham Leisure Centre. They take part in 10 week programmes where they are encouraged to develop their confidence in the water and achieve the National Curriculum standard of being able to swim 25 metres on their front and back. All children achieve Nationally recognised swimming awards. Some go on to represent Bengeworth Academy in the local swimming gala, where they compete against swimmers from our local cluster schools. Many are signposted into the local swimming club where they compete to National standards.
Gifted and Talented provision
The Physical Education Curriculum promotes high achievement and good progress. Where gifted and talented pupils are identified, specific tasks are set which use a wider range of context and resources for learning and set a higher level of attainment. Outside of the classroom, junior athletes are invited to attend a club specifically designed to develop their physical, thinking, social, personal and creative abilities.
The club guides talent into sporting pathways, provides support for their educational and sporting needs and inspires them to become future role models. It is a framework for the pupils, and those that influence them to plan ahead to ensure that their sport, schoolwork, social and family lives remain in balance.
Playground Leaders Programme
The Playground Leaders scheme supports staff in the playground. Trained leaders in Year 4 and 5 provide multi-skills activities to groups of younger children. The scheme encourages young people to take responsibility, develop communication skills and encourage confidence. It promotes integration and social inclusion, it encourages co-operation and develops moral and social skills.
Sports Premium
To see how we spend our Sports Premium allocation and the impact is has on PE at Bengeworth, please click here.