Choir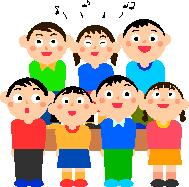 Bengeworth First School choir
Since September 2011, our school choir has grown from a fantastic 30, to a super 70 wonderful singers!
There is plenty of room for budding new singers who are looking to join an energetic and enthusiastic crew of singers.

What's new?
We are learning songs for our next 2 concerts. We are taking part in a cluster school performance of "Summer" at Prince Henry's High School on Wednesday 28th of March. We are currently learning a number of fantastic summery songs for this event, where we will have the opportunity to sing these with lots of other schools in our cluster. We are also preparing our solo performance of Bryan Adams' "Summer of '69".